Hey there folks, the 2017 Lucas season is upon us in just a few days, so we figured it's time for us to drop our series preview and predictions.
The big news of the season for Lucas, and dirt late model racing in general, was the Josh Richards was leaving his father's house car ride and the World of Outlaws (BTW, look for that season preview sometime next week) to go run with Best Performance on the Lucas series. It had a bit of a shockwave effect both series, because as it turned out Brandon Sheppard, who had been a Lucas driver for a couple of years now, was named the replacement driver for the Rocket house car and will run the WoO.
That big debate in 2016 was "Who is the best late model driver in the country?" and the answers were split mostly down the middle between Josh Richards and Scoot Bloomquist. They ran each other about 10 times over the season, and Richards had the slight advantage as as far as results, go. Still, the debate is often fierce. This year, we should actually see who the better driver is because for the first time, well, ever, they're going to be running each other night in and night out. That in and off itself, should make for make for a bunch of interesting nights on the tour. I know I'm pretty excited for it, and we think you should be too.
Other than that, the rest of the touring regulars should look pretty familiar to you if you typically go to Lucas races, except nobody seems sure if Jared Landers is going to be back on tour this year after missing much of last year dude to injury. As always, if somebody comes out especially hot through Georgia and Florida, they may decide to follow the whole thing.
So, now that you're excited, you're probably asking yourself "Well, where can I see them run?" and we got you covered. The 2017 schedule can be found
here.
The schedule isn't all that different from previous tilts, but first time stops at
Sharon Speedway
and
Port Royal Speedway
should be pretty entertaining.
So we have an idea where they'll will be running, and a rather vague idea of who, let me introduce you to the drivers in the order I feel they'll be running when the season ends.
1. Scott Bloomquist, Mooresburg, TN.
I do believe that Scott will repeat as champ by the slightest of margins. He's going to have a pretty serious edge in experience at tracks on the schedule over his nearest competition, who will be:
2. Josh Richards, Shinnston WV.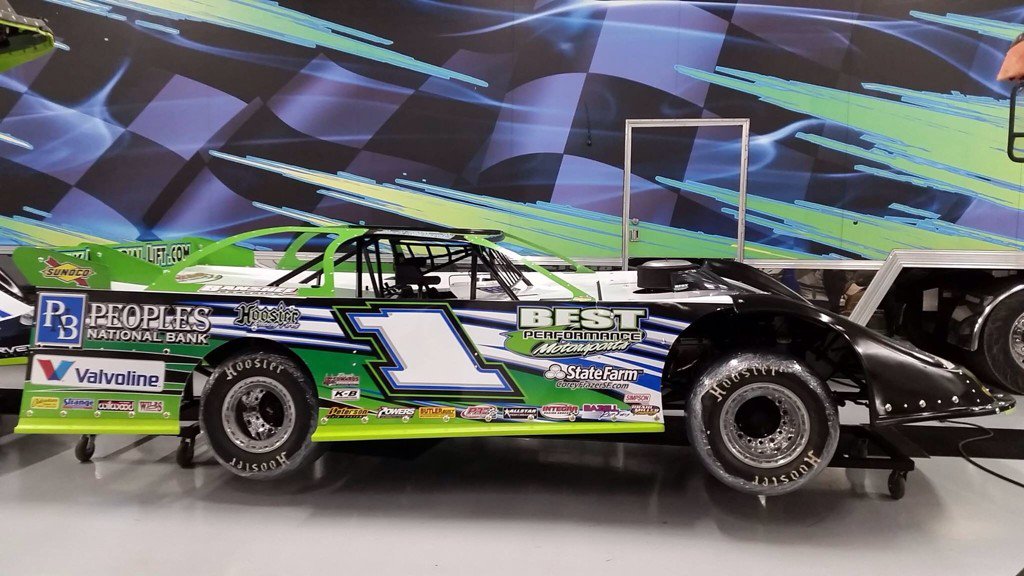 Twitter.com/Josh Richards
He will be just about as fast as Bloomquist, but he will have a rough night or two at a track he's unfamilar with. However, he will be both be and Bloomquist be heads above:
3. Dennis Erb Jr. Carpentersville, IL.
Dennis had a fantastic season in 2016, and I look for him to build on that some for 2017. Wins will be hard to come by, but I do look for him to be on the podium a bunch, which will give him the edge over:
4.

Tim McCreadie, Watertown, NY.
Who will have a fine season himself. I'm predicting at leat one win on Lucas, and one with the WoO with his new ride in the Longhorn house car. Continuing the house car theme, the next driver in line will be:
5. Darrell Lanigan, Union, KY.
Lots of people are predicting a Lanigan "bounce back" season. I really don't see that happening. He still at the black hole known as CBR, but he will be a touch better that his teammate:
6. Don O'Neal, Martinsville, IN.
Who won't win any races, either, but still somehow be better than:
7. Jimmy Owens, Newport, TN.
Who will manage to win a couple races during the year, but a 8th-15th place car every other night. Speaking of guys who's stars have faded, the next guy in line will be:
8. Earl Pearson Jr., Jacksonville, FL.
Who manages to somehow hold on to the Lucas sponsorship despite his declining performance. No wins on tour, with a high point being a second at Knoxville is my prediction, but it'll still be better than:
9: Steve Francis, Bowling Green, KY.
Twitter.com/15SteveFrancis
I'm a firm believer that he should have gone to the WoO so he would have Shane Clanton to lean on as he gets acclimated to the Capital race cars. By June, I bet he believes the same thing. Still will be better than:
10. Colton Flinner, Allison Park, PA.
Who will run the whole tour once again and make a handful more races on merit than he did last year,

but still struggle mightily.
Rumors have it Bob Gardner and Boom Briggs will run for RoY, but I haven't seen confirmation on either guy. Jared Landers is a giant question mark, he had the season opening Georgia and Florida races on his schedule, but took them off sometime last week. If he does run the tour, I say he finishes fifth in the standings, and bumps everybody else down one spot.
And that's how we see things breaking down in 2017. We'll revisit this in October and see how close we got.