Hey there folks, in just two days, the WoO season gets started down at Screven in Georgia. With that, we figured it best to give our predictions for the season and other ramblings.
This season is one that is very interesting going in, because 2016's champion, and perennial championship contender more or less since the start of the re-imagined WoO, Josh Richards, has left the tour to go run the Lucas series. It was a move that sent shockwaves through the sport. His seat in Mark Richards' house car team was filled by Brandon Sheppard, who has previously driven the car on tour with quite a bit of success, but he left the ride shortly into the season to be closer to home. Brandon has already picked up a win in the car this season at East Bay a couple nights ago, so the combination should be quite successful going into the season.
Another move made by a WoO team was Steve Casebolt leaving the Tye Twarog #9 and was replaced by young upstart Devin Moran, with plans to follow the whole tour in 2017. Devin had previously attempted to run the Lucas tour in his own equipment, but had to drop off due to a lack of funding. With the Twarog partnership, funding won't be an issue, and it'll be interesting to see what he can do on tour. He's always very stout at shows around his region, and has shown flashes of brilliance in his trips further from home before. I tend to think he'll be pretty good on tour once he gets the Rockets he's in figured out.
A new face on tour this year will be Chris Madden. Chris is one of the very best regional drivers, if not THE best, in the entire country, and has won big races before in trips out of the region. He previously started off with the WoO in 2007, but dropped off in June. He's definitely capable of winning a championship, and will get his wins for sure, but he's shown commitment issues with following a tour. Everything interview I've read with him going into this season, though, he definitely seems serious about it this year. I definitely hope he follows through with the whole tour, because simply being there makes each race more interesting. He's that good.
Other than that, contingent upon what happens at Screven and Volusia, of course, the rest of the tour should look pretty much as it has the last handful of seasons. The schedule isn't all that different, either, save for the shows at the re-opening Rt. 66 Dirt Oval in Chicago. That schedule can be found
here.
All that said, let's get to predictions. Here's where I think the top twelve in points will be come the end of the World Finals in Charlotte.
1. Brandon Sheppard, New Berlin, IL.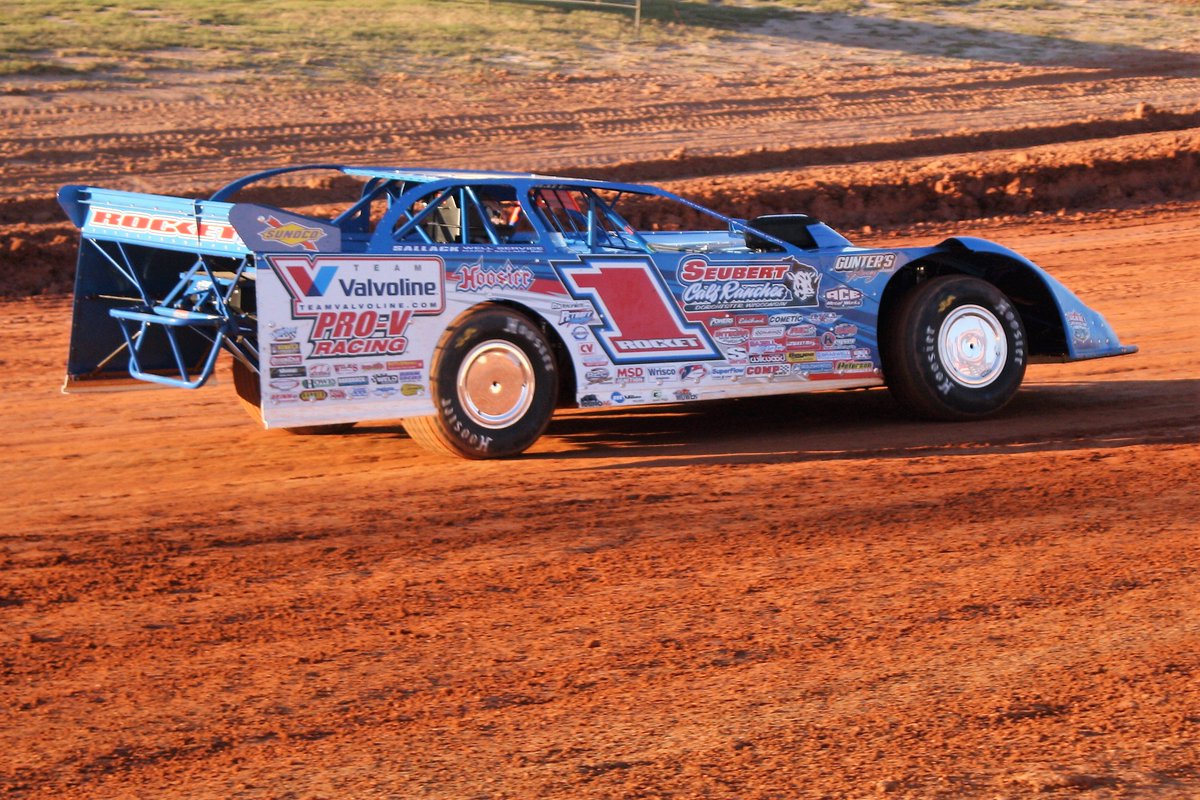 @RickardAllenIDR/Twitter.com
I don't see the Rocket team missing a beat at all, and I believe Brandon will win 8-10 races and bring home the championship.
2. Shane Clanton, Zebulon, GA.
The 2015 champ isn't going anywhere, and he'll win his fair share of races, but come up just short in the points at the end of the year.
3. Chris Madden, Gray Court, SC.
I do think he'll floowo through with the whole thing, and will win a pile of races and contend for the championship, but the touring experience will just edge him out.
4. Brian Shirley, Chatham, IL.
Brian returns to the tour again in 2017, and he will win some races and improve his position in the standings a bunch.
5. Billy Moyer Jr., Batesville, AR.
Daylon Barr photo
BMJ makes great strides and wins 6 or so races in 2017, but the compeition level on tour keeps him right where he finished in 2016 when the points shake out.
6. Frank Heckenast Jr., Frankfort, IL.
I look for Frankie to improve on previous years and win a couple races.
7. Rick Eckert, York, PA.
Daylon Barr photo
Rick will fall a few spots in the standings in 2017. Doesn't mean he's sliding down the hill or anything, it more speaks to the competition level on tour.
8. Devin Moran, Dresden, OH.
@rbbarnes69/Twitter.com
Devin will do pretty well on tour, but his lack of experience will bite him sometimes. I think it will make for excellent practice for a fantastic 2018 on tour.
9. Chase Jughans, Manhattan, KS.
Daylon Barr photo
Chase will return to the tour full time in 2017. He'll pick up a win or town on his way to a top ten in points.
10. Tyler Erb, New Waverly, TX.
Pat Miller photo
Terbo will be fast in 2017, but still have some consistency issues. Still, he'll be better than he was in 2016.
11. Chub Frank, Bear Lake, PA.
Pat Miller photo
2017 is going to be Chub's last full year on tour, and sadly, it won't be much of an improvement on the last few years. I do say he wins a WoO race for the first time in a couple seasons on June 20th at Mckean, though.
12. Morgan Bagley, Longview, TX.
Morgan returns to the tour again in 2017, and I look for a rocky start to lead to a chassis change around midseason and much improved results in whatever car he ends up changing to, but the hole that was dug at the beginning will be too much to make up any significant ground.
And that's who I think will shake out to be the top twelve at the end of the season. There will be 14 cars that follow through with the whole tour. #13 will be Joey Coulter, who is still very much in learning mode when it comes to dirt cars. #14 will be RoY Donald Bradasher, who will sturggle much of the year, but have a couple nice runs mixed in.
We'll check back come World Finals time to see how close I was.