And we're back yet again for another edition of TDN Roundtable where the wonderful staff answer questions about relevant stuff, dirt racing related! If the dirt racing season were a hockey game, we'd be headed to the locker room after the second period. And these tend to get longer as the season goes on! So grab a beer, or a cup of joe, put on some tunes, kick back and put your mind to work on these questions for yourself and see what you'd come up with for answers......or just read what our insightful staffers provide! Either way, enjoy yet another edition of TDN Roundtable!
From Zimbio.com
I'm going to start off here with the recently completed Mudsummer Classic. It's Nascar, but it's on dirt and it's one time to showoff the surface to a section of fans that wouldn't normally get to see it.
Team dirt acquitted themselves well with Christopher Bell and Bobby Pierce putting on a clinic to the delight of the fans in the stands, but...there were a few empties in the way of seats. In your opinion, is the novelty starting to wear off? And if so, what format changes would you most like to see? Is it time to get higher levels of Nascar to Eldora? Does the event as constructed lure any more asphalt fans to the dirt side?
I think that the novelty may slightly be starting to wear off, but adding more NASCAR shows on dirt is not the way to go. It'll just continue to water down the novelty act of racing asphalt cars on dirt surfaces. Once a year is enough. NASCAR as a product is struggling in general with empty seats everywhere, and the move of cup events from major networks to sports networks like Fox Sports 1 and NBC Sports Network. - Kyle Symons
I tried watching the Mudsummer Classic in between innings of the Pirate game, and as a dirt racing fan through and through, I thought it was a joke. That's probably because I am a dirt racing fan. The announcing insulted anybody who has ever been to a dirt race's intelligence. The racing itself was very, very slow, and rather lame. There was about five good trucks, and everybody else was just sliding around on glass. I do think the novelty is wearing off, and I don't think any format change is going to stop it. NASCAR in general has a problem with declining ratings and attendance. - Josh Bayko
I didn't have the chance to watch either of the past 2 years, so I can't speak to the racing. However, I did see that the amount of people that watched the race declined heavily from last year (which was was already way down from the year before). I think the figure was a 50% drop in viewership from Year 1. Did the network shift affect those numbers? Probably. But if the event was in higher demand then it would bring premium coverage from a more sought-after network. - Tyler Beichner
I was glad a few dirt track ringers were there to make it a watchable race. If they add another track next year like Knoxville i would still watch it. But it will end up like the outdoor NHL games and will lose its luster even faster than it already is to the mass dirt fans. - Brian "dobie" Compton
I agree that one race on dirt for NASCAR a year is enough. It's almost likely a yearly thing to look forward to, which for me used to be the "Prelude To The Dream", but now it is the MudSummer Classic. The format for it is just fine, I don't see any issues. Decreasing television ratings are not a surprise for me because NASCAR as a whole continues to suffer from decreasing popularity. However, I don't see bringing the Sprint Cup or Xfinity Series to Eldora as an answer to boost popularity either for NASCAR. Finally, I don't think any NASCAR race on dirt would bring many fans to your local dirt track, I think it's a totally different fanbase.
Nonetheless, NASCAR has announced intentions to add a second dirt race next year, with the truck race at Eldora in 2016 confirmed on the schedule as well. - Trever Steele
Moving on...it's that time of the year once again as the Knoxville Nationals take center stage on the DIRT scene. Tell us who wins, why, and name 1 driver that perhaps nobody else is giving much of a chance, that will open eyes this week!
Donny Schatz has to be the pick to win given his track record over the last several years in the Knoxville Nationals. The Nationals are special though, and in my opinion the biggest race in all of dirt track racing. I'll save the surprise pick for later as you can see a complete Knoxville Nationals preview from me here on The Dirt Network prior to the Nationals. - Kyle Symons
You have to go with Donny Schatz as your Knoxville winner. He is so ridiculously dominant this season that you really have to pick him for every race he shows up at. As far as a guy who could "shock the world", I'd have to go with Brian Brown. Dude knows his way around Knoxville for sure, and given the right circumstances, absolutely could take home the big fat check Saturday night. - Josh Bayko
My uneducated guess is Donny Schatz. If it were at any track in the country, chances are he would finish 1st or 2nd anyway. Knoxville is a special place for him and his crew, and I'll be surprised if he doesn't finish up front. My sleeper is Justin Henderson, although anyone that has followed Knoxville's KCCS on a weekly basis has seen what this man can do. When he's up front, he doesn't go backwards. And when he starts back, he's always tracking down the guys ahead of him. - Tyler Beichner
Donny Schatz of course is the easy favorite barring some mechanical failure or otherwise crazy happenings. Danny Lasoski would be #2 on my list because he has been dominating the weekly racing there, and I wouldn't be surprised to see Dale Blaney in the mix as well.
- Trever Steele
If you pick anyone other than Donny Schatz as the favorite you're misguided. That being said Brian Brown would probably be second on the board if there were betting lines for Knoxville and nobody should be surprised if he's holding the checkered flag on Saturday night. A guy who could crash the party is Shane Stewart. He's been strong in big money races this year and is very good at Knoxville. - Jerin Steele
Schatz will win it, but I hope Brian Brown pulls the upset. I think Justin Henderson will be a surprise top finisher this year. - Brian "Dobie" Compton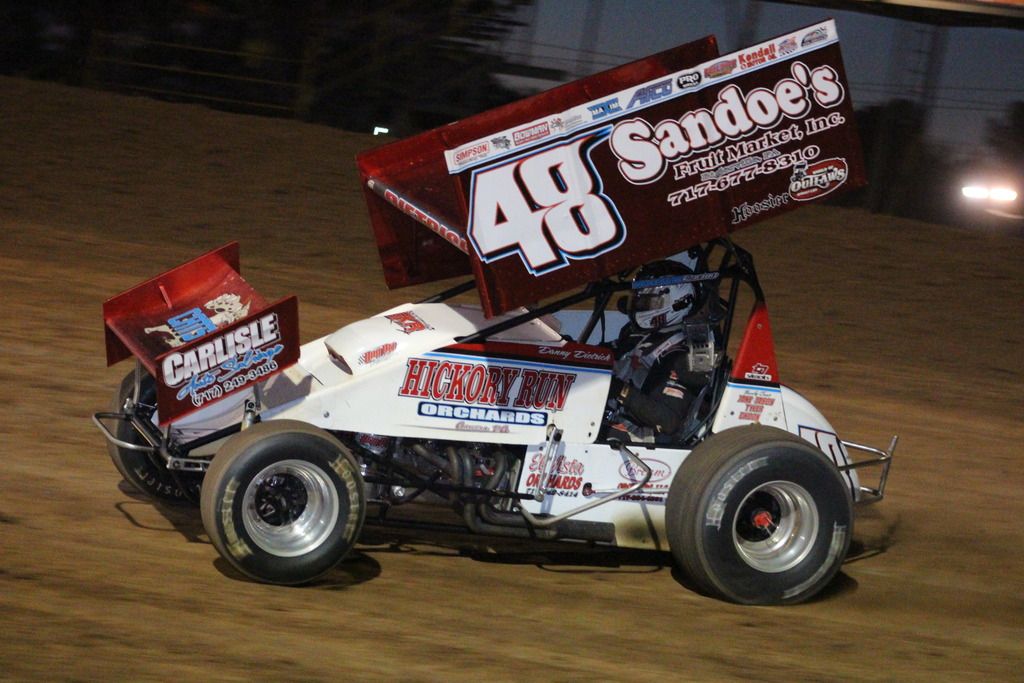 Pat Miller Photo
Let's play pretend for a second. If Danny Dietrich joined, or Greg Hodnett came back on the WoO tour, where would they slide in the points table as of today! They're both having remarkable seasons, but how do they fare outside central PA?
I think they would do well, but the fact of the matter is that it's still a struggle for those guys if they were full-time road guys. I would say that both Dietrich and Hodnett would fare better than more than a handful of teams that are currently WoO teams, but they wouldn't be title contenders. You can point at when Hodnett was a full-time WoO driver prior to finding a home in PA, he struggled and was a middle of the pack kind of guy picking up wins every once in a while. Coming to PA rejuvenated his career, and in many ways made him a better racer. - Kyle Symons
Hodnett's past experience on the circuit would give him the nod over Dietrich. The way the current standings sit, I would have Hodnett sliding in between Daryn Pittman and Jason Sides for that 9th spot, while Dietrich settles down with David Gravel in a battle for the 10th/11th positions. - Tyler Beichner
From workingonmyredneck.com
Tyler Walker is out of prison and back in a car....a 410 sprint kind of car, in California once again rebuilding a career that looked so promising a few years ago. He appears to be sincere in his recent interviews telling Kendra and Steve recently "I wouldn't wish my trials and tribulations on anybody!" If you're an owner of a high profile team, what would it take for you to be convinced to sign him and take the chance?
If I'm an owner of a high profile team I'm not going anywhere near Tyler Walker. I feel for the guy honestly, but there have always been issues it seems like with him anytime he gets something good going for him. From his time in NASCAR to his more recent troubles, it's just too much of a risk I feel to put him back in a high profile ride. - Kyle Symons
Tyler Walker in a competitive 410 sprint car is one of the more entertaining things to watch on dirt. He's got a driving style that is guaranteed to be exciting, and has been a part of some of the better 410 races I've ever seen. That said, If I had a WoO level team, I don't think I'd be calling him. He hasn't proven to be reliable enough to trust in your equipment for the long term, and I can imagine it would be awful hard to attract sponsors with him at the wheel. Now, If he can prove he can stay clean for 2-3 year, I absolutely would put him in a car. Everybody loves a redemption story. - Josh Bayko
Yeah, I think any high profile team would be playing with fire by hiring Tyler Walker. I'm not sure what could convince me that he deserves such a ride, and like Josh said, I think more time needs to pass with him being clean before he deserves this chance.
- Trever Steele
If I owned a team there's no way I'd ever let Tyler Walker race my sprint car and I'm sure most high profile owners would feel the same way. - Jerin Steele
The guy can drive a sprint car and is a wheelman on dirt, but what sponsor would give a car owner money to be associated with him? I'm selling on that one. Not a good business decision. - Brian "Dobie" Compton
Donny Schatz and Jonathan Davenport are clear cut front runners for the coveted TDN driver of the year award. (Might even be 10 bucks in it for them this year!) Anyhow. At this point of the year, which one would you say has the lead going into the last few months of the season? Schatz might have a few more wins (23 to 16) as we count. But Davenport has a edge in crown jewel wins and winning %. (less overall races)
I would give a slight edge to Davenport at the moment. He's been very impressive in recent crown jewel events, but we have to remember that Schatz ran out of gas while leading the Kings Royal, and with the Knoxville Nationals around the corner this could all change. The number of second place finishes Schatz has this season is astounding as well. - Kyle Symons
It's gotta be Schatz. Davenport has been pretty damn good all year, but most nights he's only racing half the best the sport has to offer. Schatz is racing the very best, night in and night out, and has been extremely competitive in a late model on his "off" nights from racing the sprint. - Josh Bayko
I think this one is still up for debate as the season goes along. If Davenport can continue to win these big money races, I think it goes to him. It's very difficult to win this many crown jewel, long distance events in one season.
- Trever Steele.
Donny Schatz is the best dirt racer on the planet. There was always talk that we'd never see another Steve Kinser, but Schatz races against better talent than what Steve did and he is dominate against said better competition. Hell he hoped in a late model as a hobby and finished in the top three in a WoO late model race. - Jerin Steele
Davenport has done what no one predicted, and is having the season of a lifetime. Schatz has been unstoppable, but Davenports results are up there with the best late model season ever. We still have plenty of big money races left for him to add to it! I'm with superman on this one. Brian "Dobie" Compton

From CrawfordSupplyCo.com
So far in 2015, Don O'Neal and Tim McCreadie have found themselves on the TDN Milk Carton (Jimmy Owens just came off not too long ago), Why are these guys not where they should be at this point in the season and who else is on a milk carton that surprises you?
O'Neal surprises me more than McCreadie. It seems that McCreadie has been on a downhill slide over the last several years, but coming off his Lucas Oil championship run last year I would have thought that O'Neal would be running much better this season than what he is. Every year you see guys rise and guys fall though, it's just part of the sport. - Kyle Symons
McCreadie won just a couple weeks ago and is fourth in points. He should be replaced on the milk carton by Darrell Lanigan, who was so bad he dropped off the tour just a year after an absolutely dominant season that saw him win the title by over 300 points. O'Neal doesn't have the business excuse Lanigan does. He's just very average this year. Thing is, I don't know how much of it to blame on him. The CBR team is generally very underwhelming. Last year's title win was an aberration for that team. - Josh Bayko
Like Kyle and Josh alluded to, dirt late model racing can be especially fickle from year to year. When a team hits on something, they can become unstoppable, just look at Clanton and Davenport this year. Lanigan has to be on that milk carton because he literally went MIA in the middle of the Outlaws season, but it had a logical reasoning behind it. O'Neal is just coming back down to earth after last season. But still having only one win on the Lucas Tour is very surprising to me.
- Trever Steele
Go ahead and put Clint Bowyer Racing on the milk carton. One win between O'Neal and Steve Francis is kind of surprising, but even more so is just the complete lackluster results. They obviously need to switch something up to get a little bit of momentum. Maybe they'll figure something out as the summer winds down, but this has got to be a year to forget for that crew. I wouldn't worry about McCreadie. It's not like he's been burning the world down the last few years. He'll get a few wins here and there. That's really all you can expect.-Pat Miller
Im with Pat, Where is the Kentucky Colonial? yikes. T-mac has been somewhat consistent this year and is a decent point racer still. Don O'neal is still clinging to a top 5 points spot. My milk carton photos go to Francis, and Eddie Carrier Jr. - Brian "Dobie" Compton
Billy Moyer was close to getting back into victory lane in a crown jewel last week at the USA Nationals. Are there more big money victories awaiting him in the sunset of his career, or has the expanded top echelon of drivers made it too difficult for him to expect another run like he did in 2010.
I don't think we will see Moyer have a run like he did in 2010 again in his career, but I would bet he has some crown jewel wins still left in him. He's running very well right now and up front in a lot of big shows. If it wasn't for Davenport being so dominant right now he would probably have a couple this year. - Kyle Symons
I would say Moyer started strong in the new "Billy Moyer Victory Race Car". If he gets a season or two in the cars without experimenting he could win a crown jewel each season. But his past leads us to believe he will move on about next year this time to something new. - Brian "Dobie" Compton
Given the embarrassment of losing the dream with an underweight car mean that Scott Bloomquist is a complete lock to take the World 100 since he'll be more determined than ever?
He'll be tough but Davenport has to be the favorite at this point. He's just running too well at the moment, and Bloomquist is having a Jekyll and Hyde type of season. Some nights he's really tough, and some nights he's out to lunch. - Kyle Symons
He's already working on excuses. I don't think he has a good World this year. - Josh Bayko
It has taken me until the last few weeks to come to the realization that Bloomquist is not the favorite at these crown jewel races...but isn't that how it always goes? We get to this point and Scott reminds us why he's been on top for so long. I'll take Bloomer in a dominating performance. - Tyler Beichner
He'll win.- Pat Miller
If i had to bet the farm, i would not take Scott this season to win the world. That being said, I will buy a new shirt and yell every lap hoping he passes the 6 car as i watch from the infield! - Brian "Dobie" Compton
Dave Dalessandro
It's more clear than ever that this is in fact the last Syracuse 200 at the Moody Mile. Does north east modified racing still have the need to replace this event at a large track with pit stop and fuel mileage strategy, or should the new end of SDW culminate in a different manner, maybe a $50,000 to win 100 lap race that still embodies the best things about short track racing?
I have always thought that the 200 at Syracuse was way too long of a race. Shortening the race and putting it at a facility that is more conducive to good racing would go a long way in furthering the event in my opinion. - Kyle Symons
200 lap races on dirt are pretty unique to northeastern modifieds, and modified fans embrace that and take pride in it even. I think getting away from that would be met with a lot of resistance from the fanbase. The ex-pit crew member side of me, though, thinks getting away from live pit stops is absolutely the right thing to do. You'd have to be on pit road at Syracuse/OCFS/Lebanon Valley to understand how ridiculously dangerous live pit stops are. And those 200 lap races most often come down to fuel mileage. A 100 lapper for 50k would give the event versatility, as it could be moved pretty much anywhere that could handle the crowds from year to year. It's also very likely to draw a whole crapload more cars than Syracuse currently does, because it won't be neccessary to have a "Syracuse Car". I've said it a bunch of times, having been to SDW, I'll miss it a great deal. Some of the best times I've had in racing have been up there, but I'm pretty excited to see what comes next. - Josh Bayko
I'm pretty unfamiliar with the long-distance mod races that take place up there. The longest I've ever seen are the 35- and 40-lappers that we get down here in Western PA. If they could stretch a race to 125 or 150 laps on a smaller track and not include a fuel stop, pay $50,000 to win, and maybe run 1 or 2 preliminary nights leading up to it, then I would pay good money to get a seat in those stands. Just my $.02 - Tyler Beichner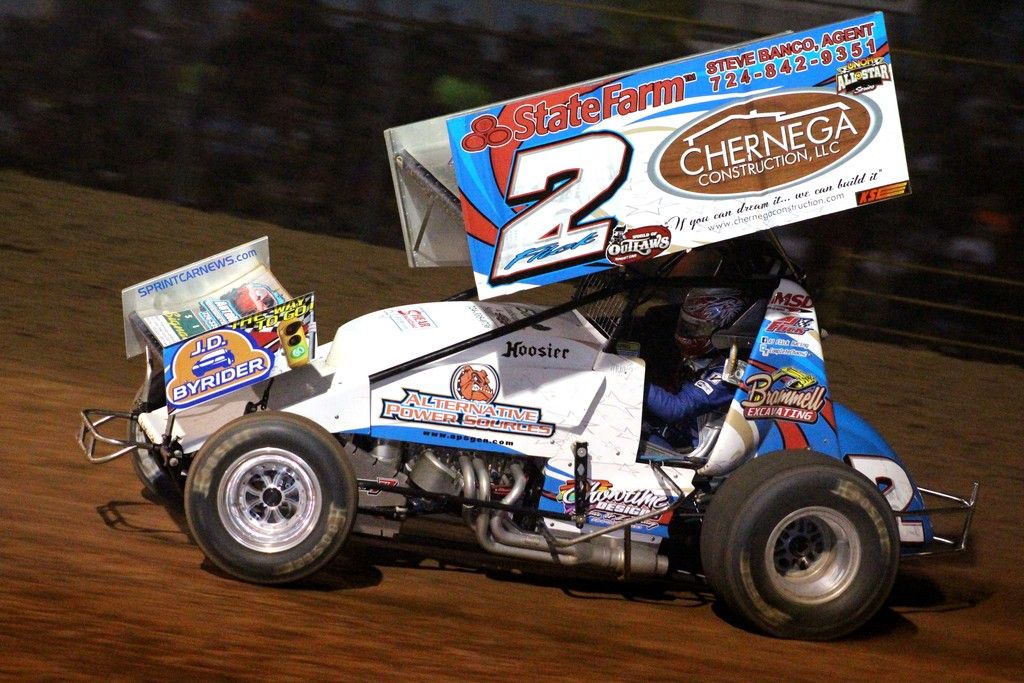 Pat Miller Photo
Last one here, Who's the biggest surprise of the local racing season? Krummert in the modifieds? Flick in the sprints? Zambotti in the stocks? Or Michael Norris becoming a bonafide title contender in the Super Lates?
If I may dip into the pot a little, I'd like to hand this one to Jeff Miller (#21 in the stocks at Lernerville for those who don't know). The guy is one of the most respected and lovable guys in the pit area. He hasn't won a feature yet, but his lone heat race win and the few laps he's led in feature action are a testament to what hard work and dedication can do. - Tyler Beichner
Flick has been very impressive at Lernerville this season, especially since its only his second full season in the division. He is looking like a seasoned veteran with two wins and very consistent frontrunner finishes. - Trever Steele
To me it's Joey Zambotti and AJ Flick. Joey figured out Marion Center a little bit quicker and got a few wins, then pulled one off at Lernerville. That says a lot. Both tracks have super competitive fields, and to see the vast improvement he's made since last year is really cool to see. We all figured AJ was going to win sooner rather than later, but the rate of his progression has been amazing to see. He's consistent and doing things that you wouldn't expect a second year 410 driver to do. -Pat Miller
A.J Flick moving up and progressing steady each season has been awesome to watch. I think i expected him to grab a win once he got a bigger motor in the car. He has been extremely consistent with all those 2nd place finishes and a few wins. Joey Zambotti is more of a surprise to me because he is beating guys that have been top dogs at Lernerville in the stocks for many many years and i did not see him running so well this year. Honorable mention to Ben Policz from the crate late class at PPMS. - Brian "Dobie" Compton